Radio frequency identification (RFID) tags are valued in a variety of industries, where they allow improved asset tracking while paving the path for impressive savings. Manufacturing, in particular, calls for the heavy integration of RFID solutions, which can make a dramatic difference by enabling real-time visibility and automation for critical processes. From production to inventory management, these tags are quickly becoming crucial every step of the way.
While the increasing enthusiasm for RFID systems is warranted, many manufacturers fail to realize that how these systems are used matters just as much as whether they're implemented in the first place. After all, the upfront costs associated with the technology can often prove considerable. Without careful integration, it can be difficult to achieve a reasonable return on investment after sustaining these initial expenses.
We've developed a detailed guide to break down the value of RFID tags in manufacturing. We'll explain how RFID systems are used — and which benefits they provide when implemented correctly.
Business Use Cases for RFID Tags in Manufacturing
There are many benefits to this technology, but versatility remains one of their greatest advantages. In manufacturing, for example, RFID tags can be used in nearly any environment or scenario to achieve impressive results. Below, we've highlighted the specific advantages associated with various applications: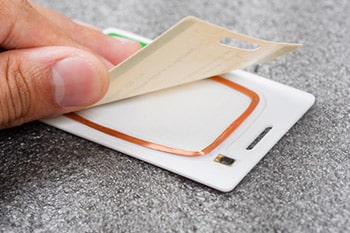 Production Process
Accurate tracking is critical during production, where the right type of RFID inlays and tags must be selected to ensure that fabrication is as safe and efficient as possible. Proper RFID systems promote the following benefits:
Durability in harsh environments

. These tags can be customized to boost durability for even the most challenging manufacturing processes. This makes RFID labels a wise investment for harsh production environments, in which alternative tracking solutions might succumb more quickly to wear and tear. High temperature RFID tags, for example, can withstand extreme heat during production.

Store large amounts of data

. Many types of these tags boast exceptionally high data capacities. As such, they can be called on to handle large volumes of important information. This ability will prove even more valuable as the Internet of Things (IoT) is increasingly utilized throughout the manufacturing sector.

Monitor operations, equipment, and materials with real-time visibility

. In today's fast-paced manufacturing world, every possible source of efficiency improvements must be used to its full extent. Significant streamlining is possible when real-time visibility is provided — and that is exactly what RFID tags enable. These tools make it easier to observe the flow of materials and the status of essential equipment. Problems can be detected and addressed far sooner than would otherwise be possible, thereby limiting the potential for downtime or other interruptions to workflow.

Quality control

. The fast pace of modern production sometimes prompts issues with quality control; inspections may not be sufficiently thorough or the data they produce might not be captured or retained. RFID addresses this problem by improving traceability and business intelligence. Under an RFID-oriented system, quality control patterns are easier to pinpoint and analyze.
Supply Chain Operations & Inventory Management
Beyond production, this technology can play a vital role in promoting an efficient supply chain and effectively managing inventory. The following are a few of the many applications RFID holds in supply chain operations: 
Accurate asset tracking in real-time

. Without accurate real-time tracking for mobile assets (such as forklifts), it's easy for essential equipment to be lost or damaged — and for these problems to not be addressed until they've caused major economic damage. RFID resolves this problem when strategically integrated within a high-functioning asset tracking system. This robust, time-saving solution reduces the need for time-sensitive, error-heavy manual processes while providing a steady stream of real-time insights. As a result, manufacturers are less likely to invest in unnecessary assets or neglect critical ones.

Accurate material and shipping information

. RFID systems can expedite shipping processes, thereby improving the likelihood that inventory is sent out and received on time. The accurate information these systems collect and convey can be used to reduce bottlenecks — or quickly address them, should they occur.

Provide data security

. Data integrity represents a chief benefit of modern RFID systems. This strength is made possible, in part, by the ability to operate without a consistently direct line of sight. What's more, should any attempts to remove tagged items occur, instant alerts can ensure that these potential problems are addressed as soon as possible.

Reduce resource waste

. As mentioned previously, these systems can be used to address the ongoing issues of unnecessary asset and inventory purchases in the manufacturing sector. Excessive inventory can lead to multiple types of waste, including extra space, utilities, overproduction, and unaddressed defects. All these issues can be addressed once manufacturers enjoy access to real-time data. Not only does this lead to significant cost savings, it can also help manufacturers reduce their carbon footprint and operate in a more eco-conscious manner.
Cost Savings
Manufacturing operations are sometimes skeptical about RFID due to the seemingly high cost of implementation. This concern is often overblown, however. Yes, there is an upfront cost associated with RFID; tags cost more than barcodes and need to be implemented with care to ensure they are used properly. Following this initial investment, however, manufacturers quickly see major cost savings in several areas. Examples include:
Significant reductions in inventory shrinkage due to improved tracking accuracy and better organization.

Reduced labor costs as traditionally manual processes (such as inventory counts) are automated.

Easier modification of tag data in a dynamic environment, reducing bottlenecks or downtime if circumstances suddenly change.

Asset optimization, reducing the likelihood of double purchasing for expensive equipment.
How to Truly Benefit From an RFID Solution
This technology holds plenty of potential, but this cannot be fully realized unless RFID solutions are selected and implemented strategically. Unfortunately, many businesses have struggled to properly enact RFID systems, leading to unacceptable waste that makes it difficult to achieve a desired return on investment.
A common misconception? That advanced technology alone will deliver desired results. In reality, the integration of technology within a specific environment matters even more than the specific technical solutions themselves.
This is evident based on findings presented in Dynamics in Logistics, which reveals that the RFID solutions of tomorrow will become even more cost-effective as they are deployed across the entire supply chain, rather than used sparingly in specific situations.
Additionally, insights from Dynamics in Logistics suggest that the value of RFID is better captured when connectivity and mobile solutions are emphasized, rather than relying on static technology. With these adaptations, experts anticipate the following long-term benefits:
Reduced out of stocks.

Avoidance of unnecessary manual orders.

Streamlined warehouse receiving processes.

Fewer errors in receiving.
Peak Technologies: Optimizing RFID Technology for the Manufacturing Sector
When you need a competitive edge in the fast-paced manufacturing sector, Peak Technologies delivers. Our targeted solutions are capable of meeting a wide array of enterprise objectives. We serve several critical niches within this dynamic industry, ranging from metal fabrication to plastics manufacturing.
Our depth of knowledge can be observed throughout the entire process, ranging from discovery and proof-of-concept to deployment and beyond. We take the guesswork out of RFID implementation to ensure that all manufacturing clients reach their desired ROI. Reach out today to discover how your enterprise can make the most of our RFID solutions.