Proactively find and fix mobility issues
Now more than ever, your workers are dependent on their enterprise mobile devices. These devices have become critical to ensuring the smooth and effective running of many organisations. Effectively managing your mobile devices is a crucial component of managing a mobile workforce; the more business leaders know about device health, performance and connectivity, the more likely they are to achieve maximum uptime and productivity.
Introducing Peak Mobile Insights
PMI is a manufacturer independent cloud-based visibility tool that optimises mobile device reliability with 24/7 access to device data.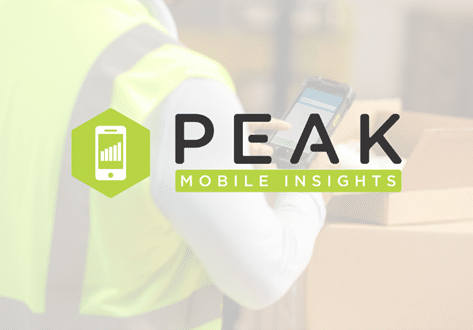 Enhanced enterprise mobility, visibility & intelligence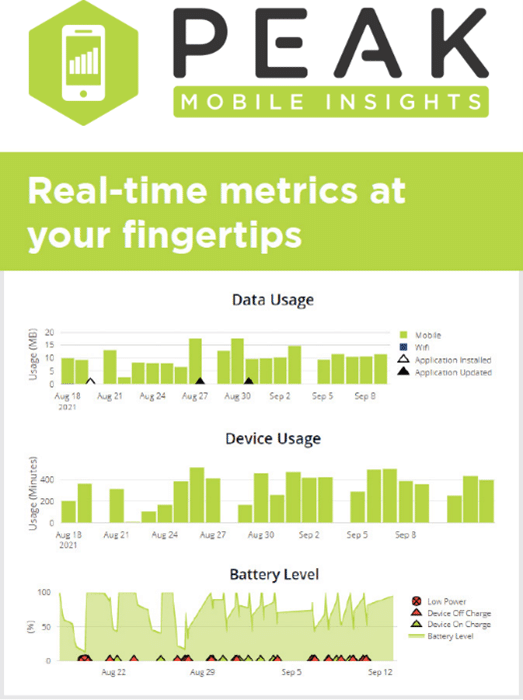 Manage and control mobile issues that negatively affect your workers
With instant business intelligence for planning, proactive decision making and swift problem resolution, PMI allows you to:
Improve mobile worker device visibility and control
View everything you need in one singular portal
Gain access to multiple aspects of your mobile device estate including – app usage & performance, battery health, cellular & Wi-Fi status, device reboots, operating system version and security patch compliance, device utilisation levels, and much more.
Take a closer look at what Peak Mobile Insights has to offer
Get real-time, actionable insight on the health andutilisation of your mobile devices.
PMI provides the necessary functionality to address the primary operational challenges associated with managing a mobile device estate including:
View the overall health of all of your mobile device assets in a single dashboard
Overall Battery Health
Discharge rate & usage statistics
Current location
Last seen location together with time and sate stamp
OS Version
Patch Level
Exception Alerts & Dashboard
Application version, last updated date
Application data usage
Number of applications
Size of applications, last used date
Data usage
Device charge level
Event list (such as reboot) including event type, event time, and event information
Memory usage
Detect if a device is dropped or exposed to forceful impacts or rough handling
Optimise processes by analyzing drop detection by user, location and RMA analysis
Per site utilisation reports
Device type utilisation
Overall estate utilisation and right-sizing
Book a Peak Mobile Insights demo call today​
Learn more about how PMI can benefit your mobile operations by getting in touch with one of our experts today.