Healthcare Data Management and Collection
For providers to maximize time at the patient's side, they need data capture technology and access to critical clinical decision support data –right from the palm of their hands. With Bar code Direct healthcare data management solutions, you get best-in-class barcode scanning accuracy and real-time access to patient electronic medical records at the bedside.
EASY ACCESS TO
MEDICAL RECORDS
MORE TIME
WITH PATIENTS
1D AND 2D BARCODE
READABILITY
Achieve Flawless Specimen Collection And Management
Misidentified specimen samples create a serious risk to patient safety and can result in misdiagnosis or incorrect treatment. With Bar code Direct mobile devices and printers, healthcare workers can print labels at the point of care and perform a three-point check that confirms the links between specimen collection order, the patient wristband and the labeled container.
Bar code Direct specimen collection solutions allow staff to positively identify patients and ensure specimens and results are accurately recorded in the medical record.
IDENTIFY, TRACK AND MANAGE
Handheld computers allow everyone from nurses to lab technicians to scan and print barcodes for accurate specimen tracking and analysis.
ACCESS INFORMATION QUICKLY
Test results are logged promptly, providing doctors with accurate data for informed decisions and timely treatment.
Built For Life In The Lab
Purpose-built for medical labs and pharmacies, the DS9900 Series Hybrid Presentation Imager improves workflow efficiency and accuracy. Workers get first-time, every time capture of the many types of barcodes found in the lab including small, high density, curved and color-coded.
USED FOR:
Blood Verification/Phlebotomy
Blood, Tissue and Specimen Tracking
Healthcare Admissions
Patient Admissions
Inventory Tracking
Medication Tracking
WHAT IS BARCODE MEDICATION ADMINISTRATION?
The Barcode Medication Administration (BCMA) is an inventory control system used in hospitals with the goal of preventing errors in medication distribution.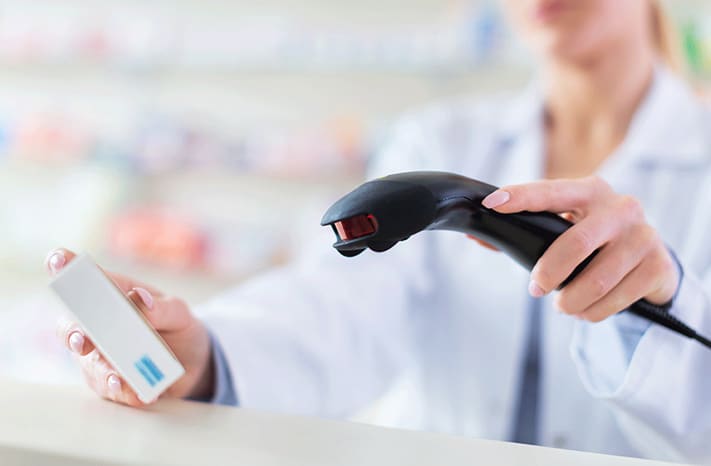 Peak's Data Management and Collection Solutions,