In healthcare, the importance of ensuring positive patient identification (PPI) must not be ignored. Peak Technologies offers patient identification and tracking solutions which will help your healthcare facility run more smoothly.
If your facility is found to be operating with a lack of organizational responsibility, the following could occur:
You could be held liable for damages, which could result in non-compliance charges, a damaged reputation, and increased insurance rates
Patients will suffer due to disorganized care, untimely treatment, medication administering, and even missed meals
Of course, no medical facility can operate without well-trained staff, who understand and implement the five patient rights of medical administration.
RIGHT: PATIENT / DRUG / TIME / DOSE / ROUTE
How does a patient id and tracking solution work?
Patient ID and Tracking solutions from Peak Technologies combine several technologies to create a bespoke system designed for your healthcare organization.
Patients can be issued wristbands containing vital information which is centralized on a secure database accessible throughout the facility. These wristbands can either be barcoded, or labelled with RFID tags for non-contact, automated data retrieval. This removes the need for manual data entry by automating the data capture process – this in turn ensures data quality across the entire facility.
Both barcoded and RFID wristband labelling enhances patient care, offers real-time tracking capabilities, and reduces medical errors by ensuring the right patient receives the right treatment at the right time
What does a patient id and tracking solution include?
Peak Technologies are experts in putting systemic solutions together for healthcare facilities of all sizes and needs. Although each organization will vary in terms of required products, there are a few staples that will greatly enhance your existing patient tracking and identification systems, if you don't already use them. They are as follows..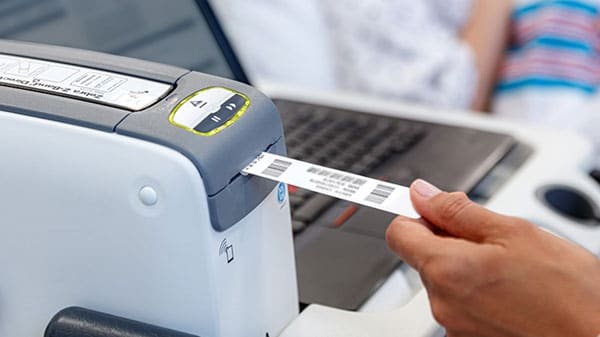 To ensure consistency in Patient ID and Tracking throughout your organization, implementing a wristband system will allow for real-time tracking, accurate patient information, and more immediate decision-making
Mobile Computers / Handheld Devices
For nurses, doctors, and other medical staff, mobility is crucial for completing daily tasks. Peak Technologies supplies touch computers from Zebra, which are clinical, smartphone sized mobile computer. These feature barcode imaging for immediate patient identification and updates, an ergonomic design for optimum portability, and support for the latest EMR nursing applications.
Labelling in a healthcare organization can involve anything from identifying tools and equipment, to ensuring medication is being distributed correctly. Having the capacity to print high-quality labels, some of which will need to be barcode integrated, is an essential part of any basic Patient Tracking and ID solution.
Wireless Infrastructure (Wlan)
In the medical sector, immediate access to sensitive data is the crux of determining patient care and success. Peak Technologies can install Wireless Local Area Network (WLAN) technology across organizations of all sizes, so your staff can access your internal systems immediately and from any location.
To implement a successful Patient Tracking and Identification solution, all it takes is liaising with a Peak Technologies expert, who will conduct an audit on your situation, considering:
We can then recommend a tailored solution for your healthcare organization, which we will install and help set up, to reduce downtime across the facility.
Peak's Patient Identity Solutions