Mobile Powered Workstations
Improve Processes with Our
Powered Cart Solutions
Mobile workstations provide the freedom your operation needs to fully leverage your wireless facility and untether both your employees and your productivity. In addition, they allow employees to easily maintain social distancing.
Unlike stationary desks, mobile workstation carts can move anywhere they are needed within your warehouse or distribution center. Their ergonomic design creates a comfortable and efficient workspace with the benefit of a small footprint.
Peak Technologies offers mobile workstations that are built to stand up to the rigors of the harshest industrial environments. Whether they're being used as a laptop cart or carrying around multiple devices such as printers and barcode scanners, they allow workers to be more mobile and gain productivity in their applications. Contact our team today and we'll help you find the right solution for your business.
Learn More About Mobile Powered Cart Solutions
Benefits in a Warehouse Setting
Warehouse operations are all about flexibility and mobility. From material handling operations that involve order picking to packaging and shipping management, a stationary workplace greatly hinders these workflows. Efficiency in these areas is needed to maintain high productivity and profitability.
The Peak Technologies team has years of experience in the supply chain industry, which allows them to help in the selection of mobile warehouse workstations that meet your business requirements. The addition of these systems can lead to vast improvements in workflow efficiencies.
Newcastle Systems Mobile Carts
Peak Technologies offers the full product line of Newcastle Systems mobile powered carts for auto-ID technology, computers and more.
Newcastle Systems' innovative battery powered and non-powered carts are designed to make high-volume barcode printers, computers, scanners, scales, and other equipment truly mobile – enabling you to perform your task or operation anywhere in a facility.
These carts allow you to eliminate costly footsteps, print on-demand, and reduce labeling errors. They give employees continuous, full screen, real-time access to WMS, ERP, or ADC software anywhere in your facility. The integrated power system provides consistent, reliable run time for virtually any application requiring "portable power".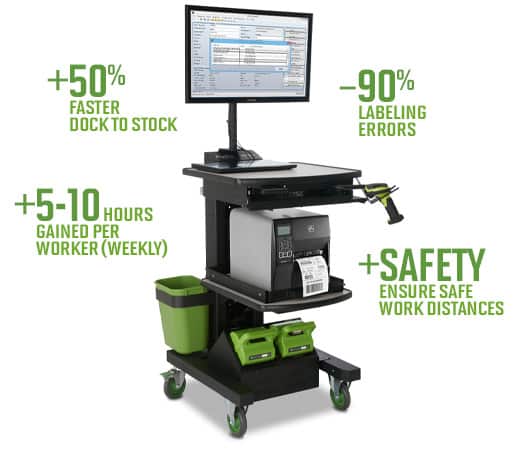 See the Time Savings of Mobile Powered Carts in Action
Newcastle Systems mobile powered workstations can be configured for any industry or application. From raw materials receiving in manufacturing, inventory control and cycle counting in the distribution center, to shelf labeling and sign printing on the retail floor, these workstations have the flexibility to be customized to get the job done faster, eliminating the need for workers to travel back and forth to a centralized location.
Features:
Run up to four devices at once for complete shifts
Easy adjustment with slotted shelf set-up
Robust line of accessories
Available in an a variety of cart widths to meet a diverse range of footprints
How efficient and accurate are your labeling processes?
The speed and accuracy of labeling impacts all downstream warehouse operations- save time and money with Mobile power- see how.
Power Applications to Improve Productivity up to 50%
Using a mobile, battery-powered cart will eliminate the unnecessary walking between a dock and a fixed printer/computer desk. Bringing immediate productivity gains to your business by implementing mobile powered cart solutions:
Calculate the ROI of Your Mobile Workstation
By eliminating just 8 minutes from an hour of walking time back and forth to a stationary desk with a computer or printer, you can save $7,000 per year. Add 10 mobile powered carts and save $70,000 annually!
Download our Free Warehouse Productivity Guide
Benefit Today with Enhanced Warehouse Efficiency
DOWNLOAD GUIDE