NiceLabel Cloud & Label Management System (LMS)
Standardize your entire label printing process into one platform — in the cloud or on-premises
Digitally transform all of your labeling and label-management tasks with NiceLabel's centralized Label Management System (LMS).
Whether you have five users or thousands, you can extend your printing operation beyond your enterprise walls to include remote locations, suppliers and contract manufacturers, plus completely manage and control labeling across your entire business from the cloud or from your own infrastructure.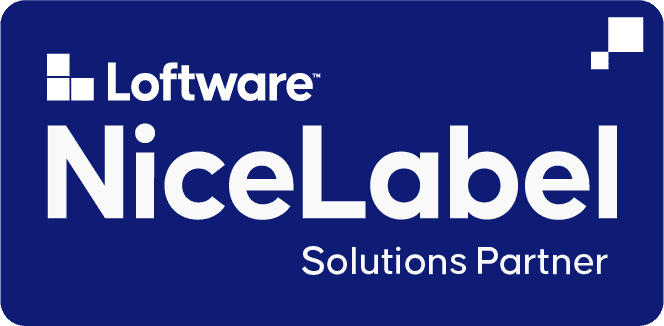 Streamline Label Creation, Management and Validation
Label Cloud: A Simple, Comprehensive, Cloud Labeling Solution
Digitally Transform Your Entire Label Printing Process — With Zero On-Premises Footprint
Traditional desktop label design software has served the needs of companies around the world for decades.
However, times are changing.
While these applications have worked well in the past, they weren't designed to manage the complexities, requirements and challenges of modern businesses that are transforming their operations and moving virtually all software to the cloud in a Software-as-a-Service model or SaaS.
Welcome to Label Cloud!
Companies of all sizes are adopting Label Cloud to design, print, manage, integrate and scale their labeling operations.  You can update label templates quickly, streamline label changes and approval processes, grant access to external partners to print compliance labels, and deploy label printing to new operations, quickly and easily, without heavy (and in many cases, any) IT resources.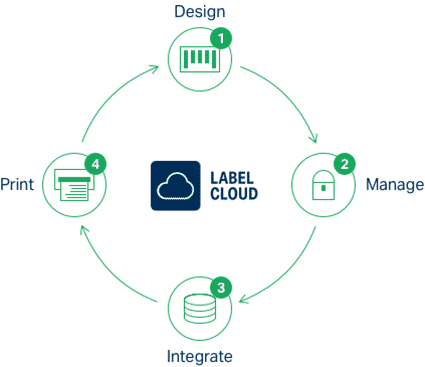 Label Template Design, Centralized Management and Printing… From Anywhere, To Anywhere
Label Cloud is configured with an industry-standard user interface to format and design labels quickly and easily, empowering users to design labels using the most modern label designer for business.
Familiar, Microsoft Word-like user experience
Improved speed and flexibility in making label changes
Streamlined compliance with regulatory requirements
Design without barcoding knowledge, layout expertise or advanced computer skills
Universal templates to use with any printer brand
Print in multiple languages on the same label
Design, review and approve labels from a centralized document repository with a Document Management System (DMS) without having to install software on workstations.
Secure centralized storage
Automatic version control
Unique indexing and search
Secure electronics approval workflows
Label comparison provides quality assurance
Secure role based access control
Non-production environment
Device management and alerts to avoid unplanned downtime
History & reports for full traceability
Change and transport system
Connect your business applications with Label Cloud's integrated label printing capabilities. The all-in-one architecture meets the needs of businesses of all sizes with connectors for most ERP, WMS, SCM, MES or PLM systems.  With data mapping, business rules and workflows, Label Cloud also provides load balancing for high volume environments—without any coding.
All-in-one print server
Pre-built connectors provide seamless integration
Data mapping provides integration without coding, even accepting inputs direct from PLCs
Configurable business rules and workflows
64-bit architecture provides unmatched performance and reliablity
Scalability you can't outgrow
With a single click, deploy and print labels on-demand across all of your workstations and remote locations, including suppliers, contract manufacturers or third party logistics providers.  Label Cloud's Web Printing System provides the flexibility of creating manual printing applications which are centrally deployed and scaled for business-wide distribution.
Thin, client-side printing application
Extend to suppliers, contract manufacturers or 3PLs
Guaranteed label accuracy
Identical label output at any location, regardless of the supplier's printer brand or technology
Ensure suppliers are always using the correct version of your required labels
NiceLabel Label Cloud Architecture:
Label Cloud Integrates Seamlessly With….